Hi there everyone, finally got around to installing my set of AMR Coilovers for the P11 yesterday, although due to me starting in the late evening, I only got the fronts in, though the rear won't take to much time, so look for a update later today.
Anywho, I didn't get a chance to take many pictures so you'll have to give me a bit of time before I can get some more detailed shots of the install.
The set I received is a 8kg front, 6kg rear which is a good compromise between comfort and performance.
Installing the fronts is the exact same as the P10's so please refer to this thread until I get mine in order,
AgilityCo :: P10 Review/Install by cavern
I didn't really measure the height of the collar before installing, just eyeballed them and shortened it about a inch from side by side comparison with the stock suspension. Like
cavern
I did not preload them three full turns as suggested by Andy, though I will experiment with it later on, for now I only did about one full turn and I have yet to see any ill effects.
Here are some shots I took while installing the driver side,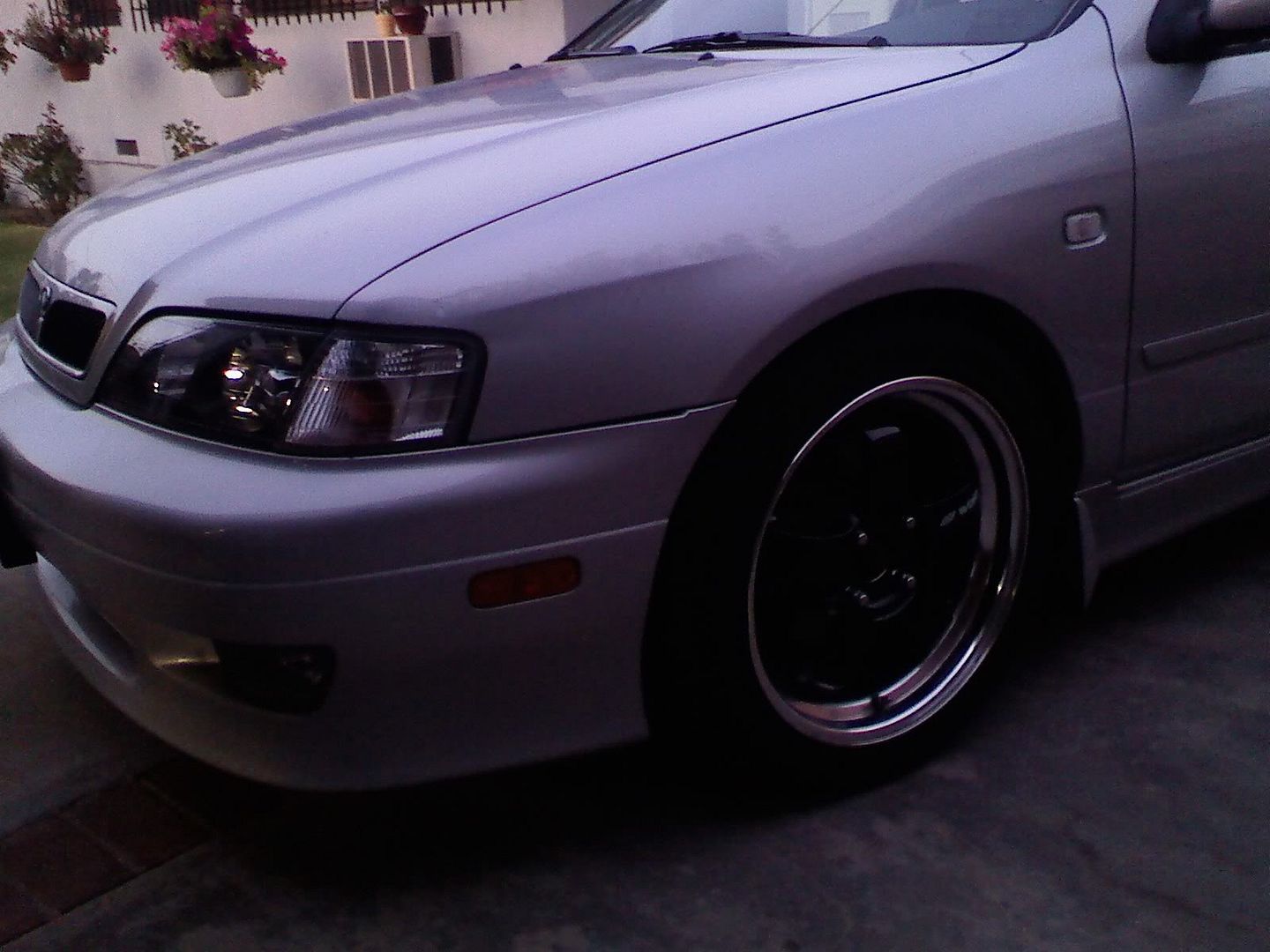 ---------
I'll be doing the rears later on today, so hopefully I will be able to get that up by tonight. Also, I am taking a trip to San Francisco on Thursday, so it will be a good test and break in for these coilovers.
---------
Another note is that while inspecting them post installation, it seems that there isn't much room for a wider tire or a higher offset, I am currently running on 17x7, 38mm offset wheels and a 215/45/17 tire, and was hoping to go to a 225/45/17, but I do not think that's possible without spacers now.
---------
Rear coilover installation (posted 9/22/2008)
To remove and install the rear suspension, you are going to need the following;
Required tools:
1x jack
2x jack stands
1x breaker bar with 17mm socket
1x 12mm deep socket w/ ratchet or a 12mm box wrench
1x 17mm socket w/ ratchet
1x 6mm hex key
1x metric ruler
Removing the rear suspension:
Note: I will only be covering the removal and installation of one side, they are both the same.
Find a suitable jacking point, (you will need to have both tires in the air.) I chose to jack using my mounting points of my rear sway bar on the beam.
Once you have the car in the air, remove the wheel and place aside.
It will look something like this,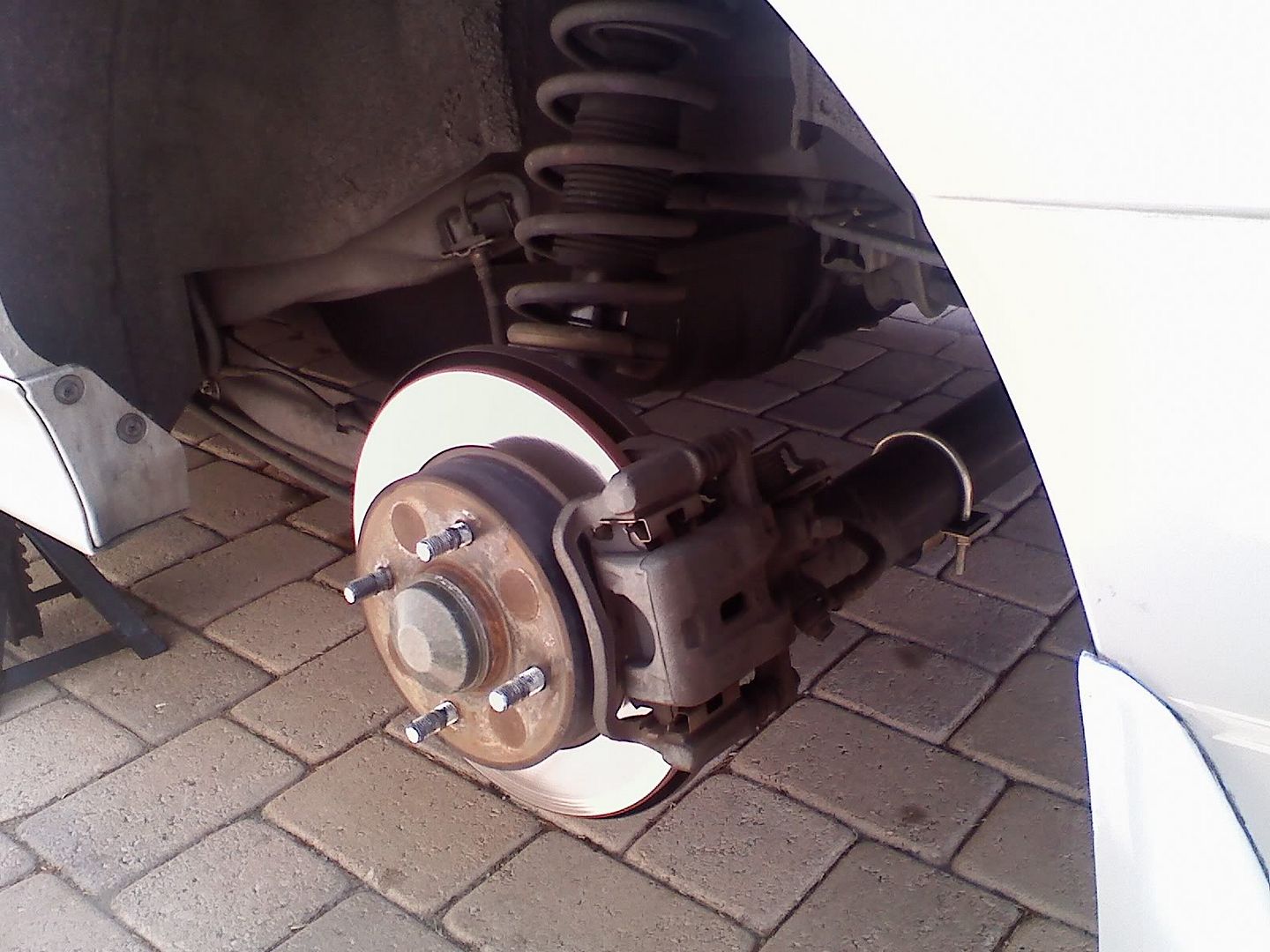 You will need to find the lower 17mm bolt, use your breaker bar and socket to loosen it.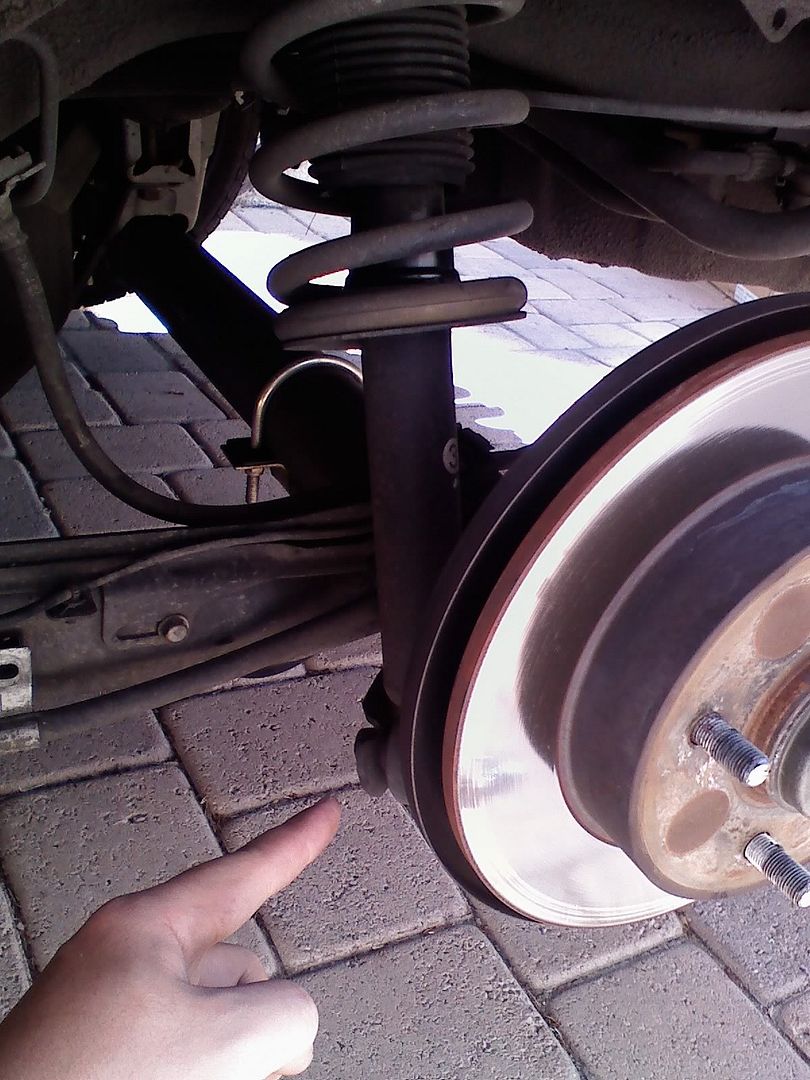 Then remove the bolt with your socket and ratchet.
Take your jack and place it under the stock suspension, you will need to keep it from falling for the next step.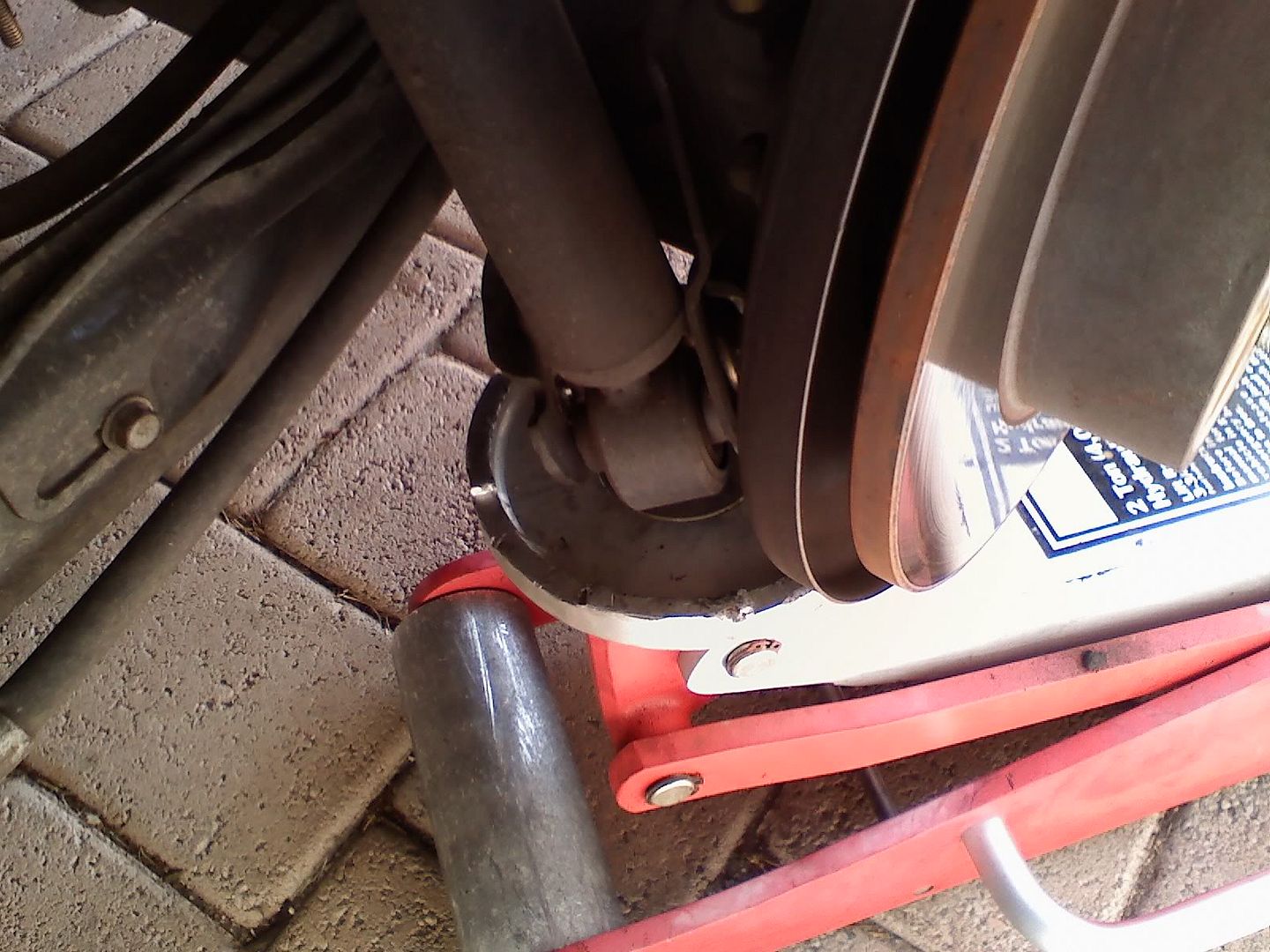 Now open your trunk, and locate the upper mounting points of your suspension, under the carpeted area furthest into the trunk on either side. (please excuse the mess of sneakers)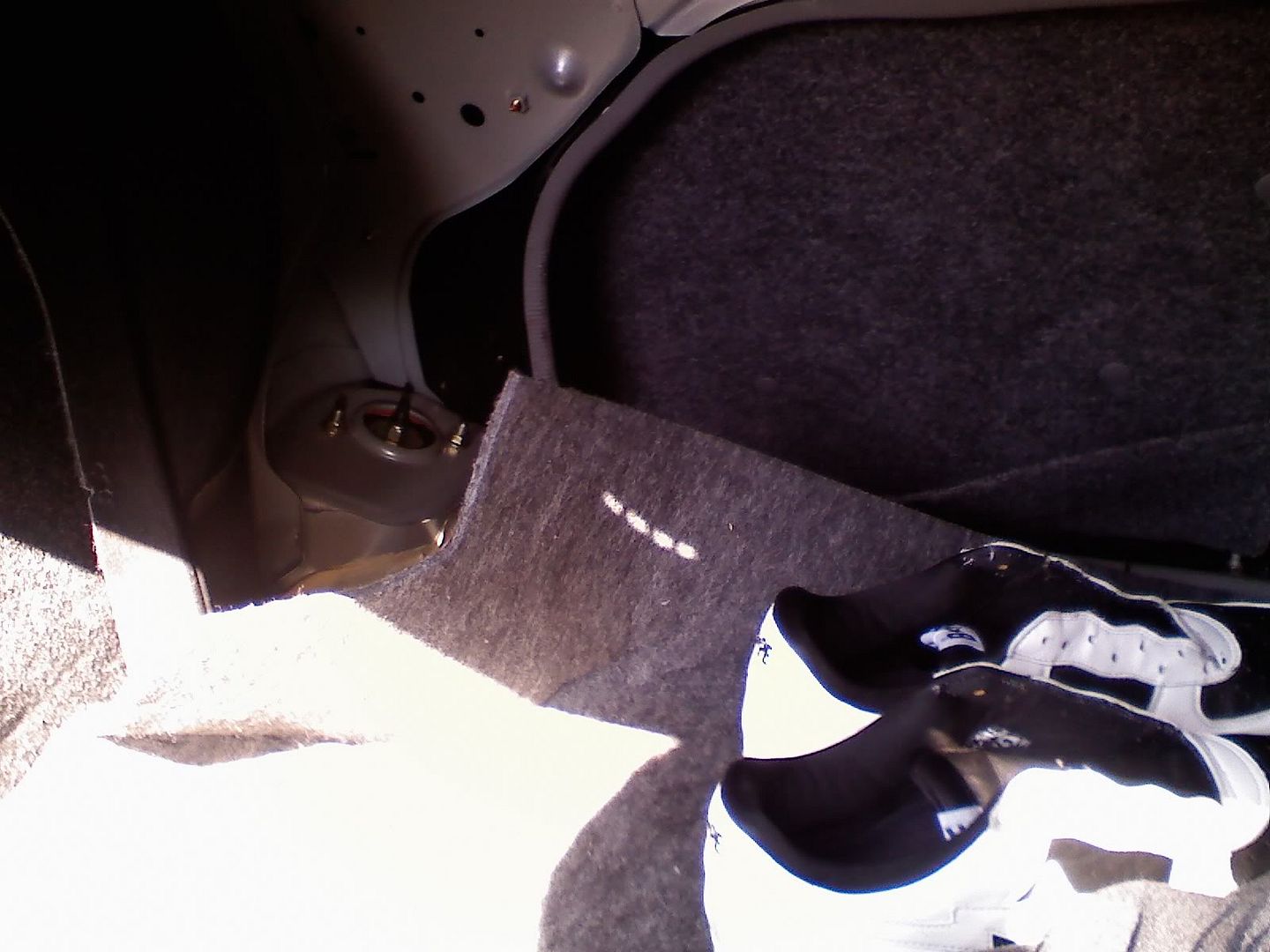 You will see two 12mm nuts, remove them with your socket and ratchet.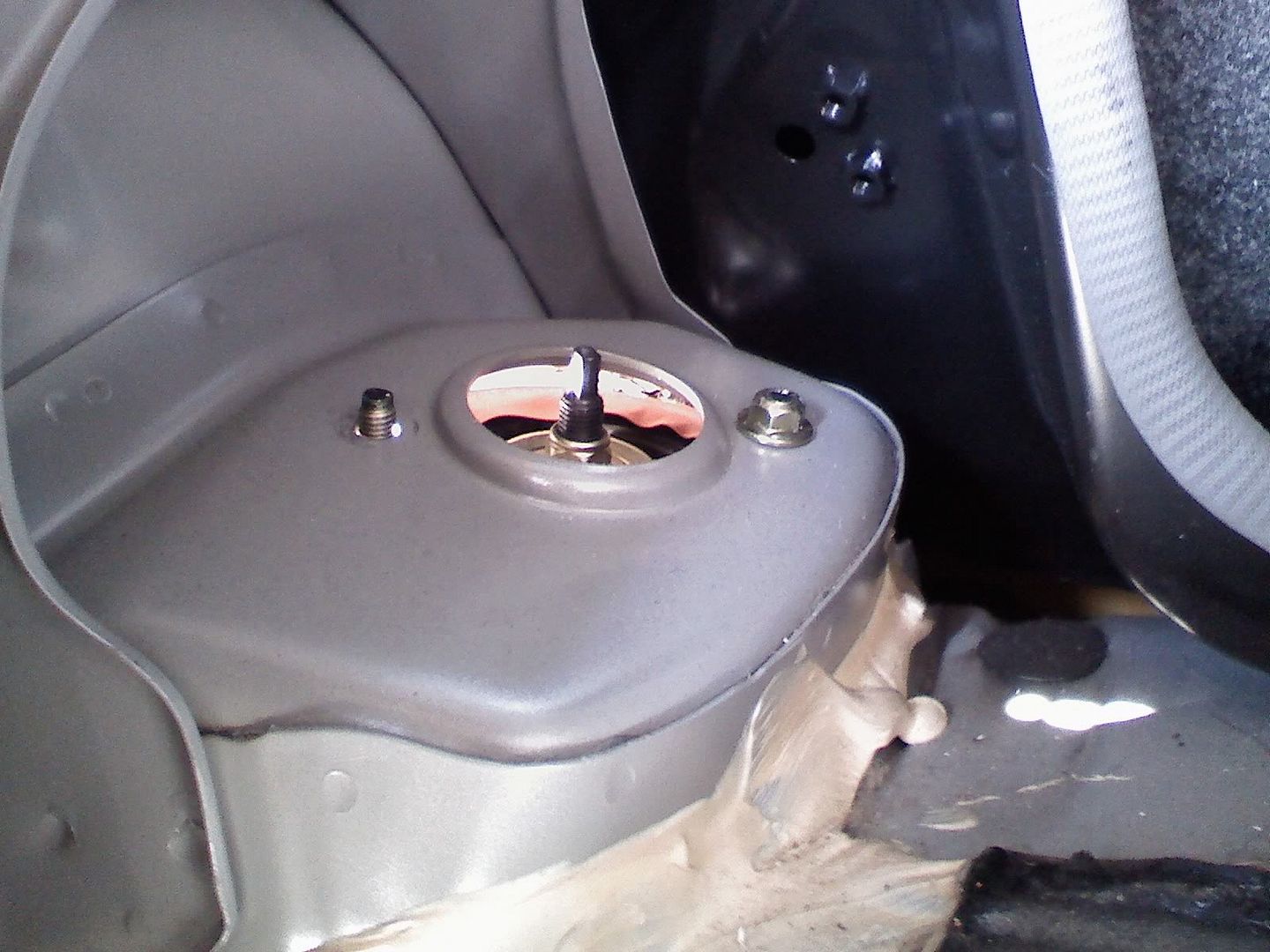 Once you have removed these two 12mm nuts, your suspension will fall from place.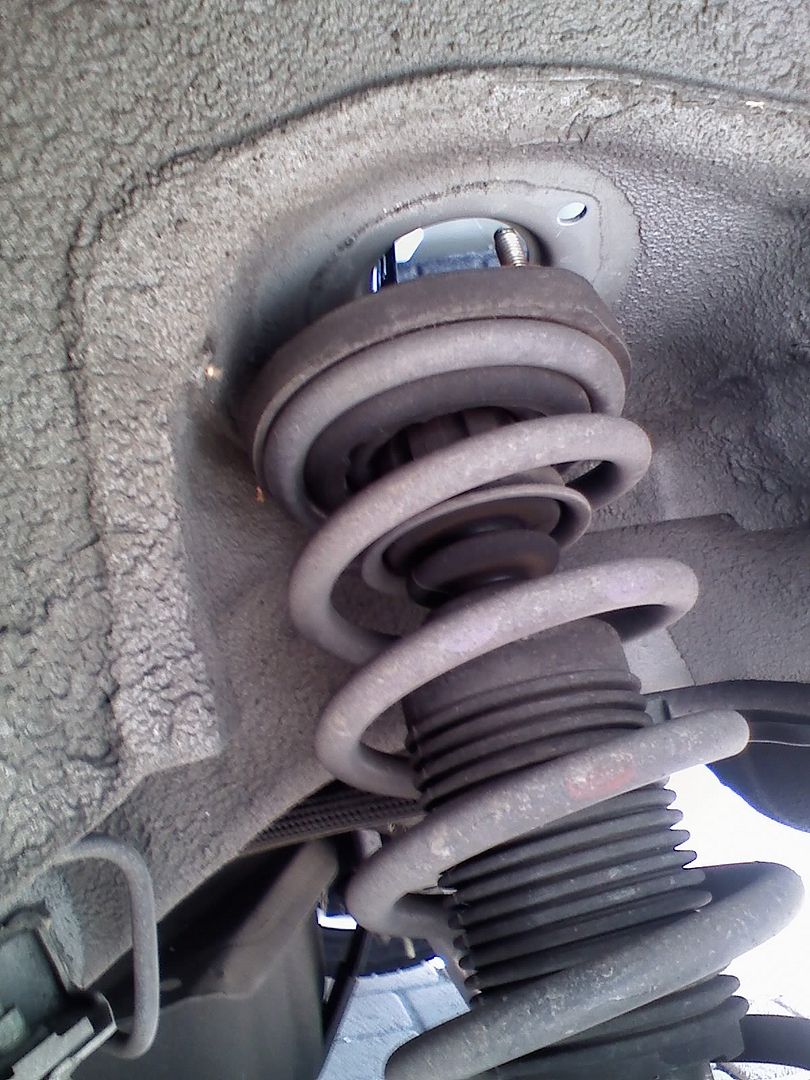 At this point, lower your jack and remove the assembly from the tower.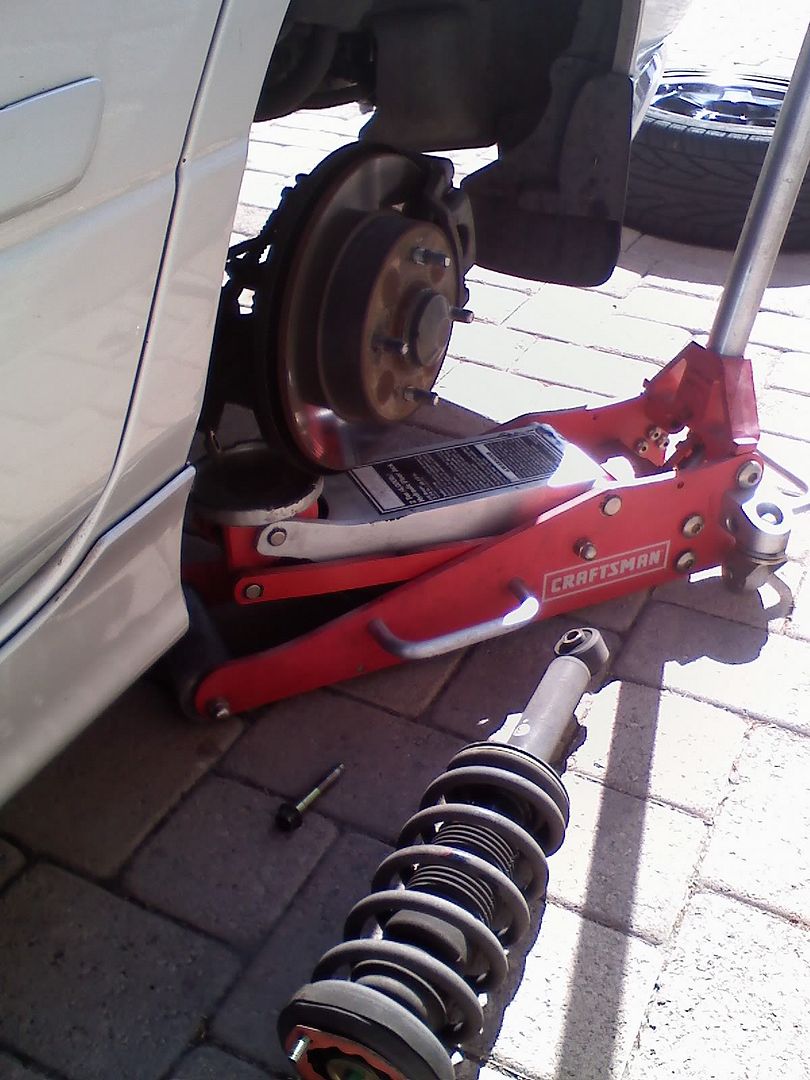 Congrats, you have now finished removing your stock suspension, take a break and go grab something to drink. Next up is the fun part, installation of your rear coilovers.
Installing your rear coilovers:
Your rear coilovers will look something like this out of the box, they will need to be adjusted prior to installation.
The first adjustment that will need to be made is the preload, I chose to preload them 2 full turns, although I will be experimenting with different settings until I find the one that is best for me. You will be using you 6mm hex key for this job.

Second adjustment is your height setting, out of the box, they come at the lowest setting, which I would think is quite slammed. I did 34 half turns of the lower housing, which gave me zero wheel gap, I did not have a ruler at the time so I could not measure how much I was adjusting them. I will be readjusting to at least 1 finger gap with measurements in the near future.
Once you have adjusted both of these settings, you can proceed to installing your coilover.
Installation is very straightforward so I will only be providing pictures and very little description.
Place coilover in empty tower.
Use a shop towel to prevent scratches.
Tighten lower 17mm bolt.
Use your jack to raise the coilover into the tower.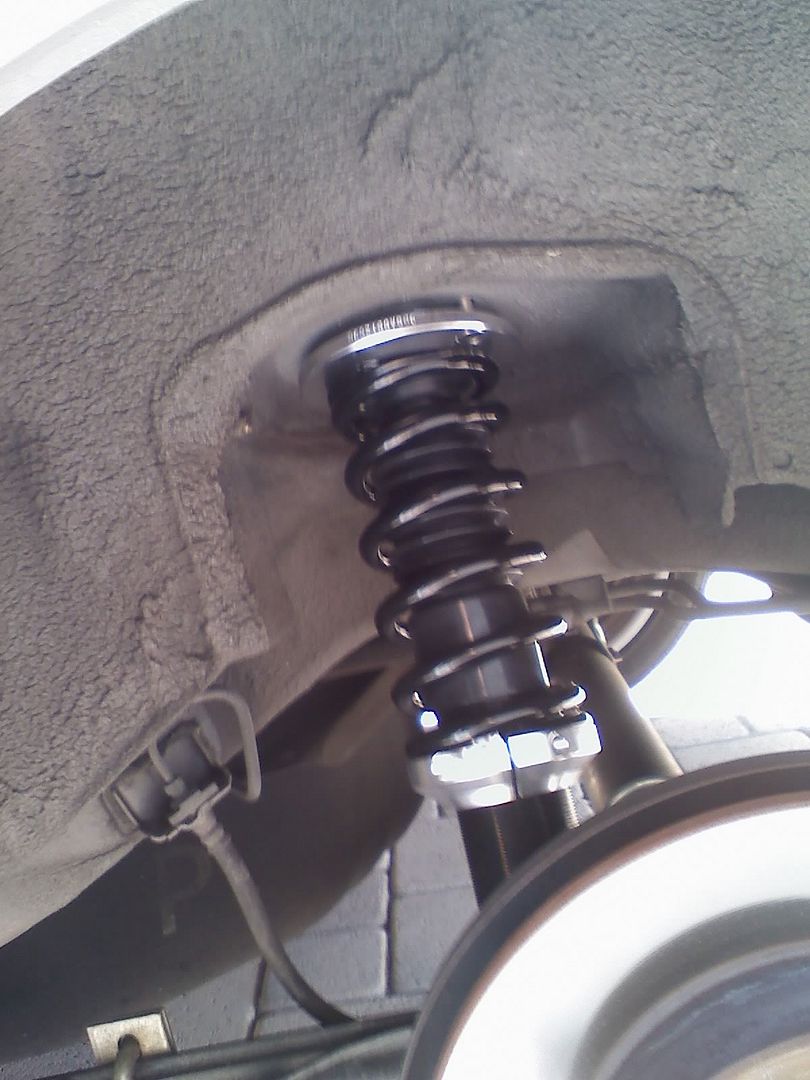 Tighten your new 12mm upper nuts.
Installation finished.
Put your wheels back on, and lower the car back down.
FIN.