Custom SPRAY CAN paintjob on front bumper--- 56K, go take a nap--
Ok, so it's not really custom, but more like OEM-- but I thought I'd show it off anyhow, since the G is about to sell and I'm soon to be G-less..
I thought other guys may be glad to see that it's possible to do things yourself and still do them well--
My car is a tan P10, and a chick pulled out in front of me causing minimal damage to the bumper cover, headlight, grille, and corner-----
I bought a bumper cover from U-Pull it for $40 from a blue 93' G20-- the bumper was blue and black, and you see that it is now tan/brown-- Every part that is brown used to be black-- it came out pretty well and looks factory to me-
All the paint was shot from a spray can with a custom mixed single stage paint formulated to match the 3 stage OEM color, and it's darn close-- the brown is a flexible bumper/carpet/vinyl paint-- crazy sounding, but works awesome-- The paint can be put into a can at a body shop supply store, but each can cost me $19!! And this took a can and a half to do-- At least I have some extra left over--
I did all the paint work on my front porch, in open air-- I masked the tan off too early, leaving tons of tape marks all over it, which I then wet-sanded after allowing it to cure for another 2 days--- the results are like factory, maybe even slicker--
Please don't make that mistake I did and mask the fresh paint too early, but it was cool outside here, about 40 deg-- so if it's warm there, a day in the sun and you should be good (the bumper)
BUT-- wait a week anyway, I know, I know... I hate watching paint dry-
This job boosted my confidence a great deal, and my respect for those guys that do it all the time-- masking this bumper was not fun, and intricate around the fog openings to say the LEAST!
After wet-sanding the tape marks out with 600 first (LIGHTLY!) and 1500 next, followed by rubbing compound, the results are not only good, they're awesome! Sorry the pics don't show the gloss-- I'll try to get a good closeup of the gloss! It proves a paint can can look just as good as a gun, It's just WAY more expensive-- only good for small panels at a time--
Also, you can barely see it, but the lower part of the bumper, maybe the air dam?, was nearly cracked in two, and I melted it back together with a soldering iron, then glued a backing panel on the back of the plastic with a strong epoxy and not only can you barely see the repair, it's fairly strong as well. I have no worries about it holding up for a long time. The crack was nearly 6" long, and made the lower air dam really flimsy, and it ran up and down, so the lower part was nearly split in two-- now it's one smooth piece-- I really outdid myself on this one--
Enjoy--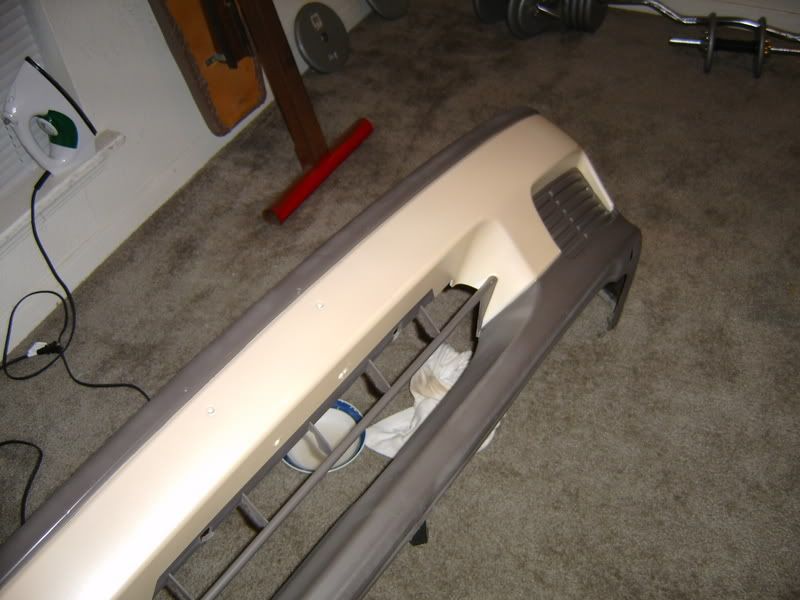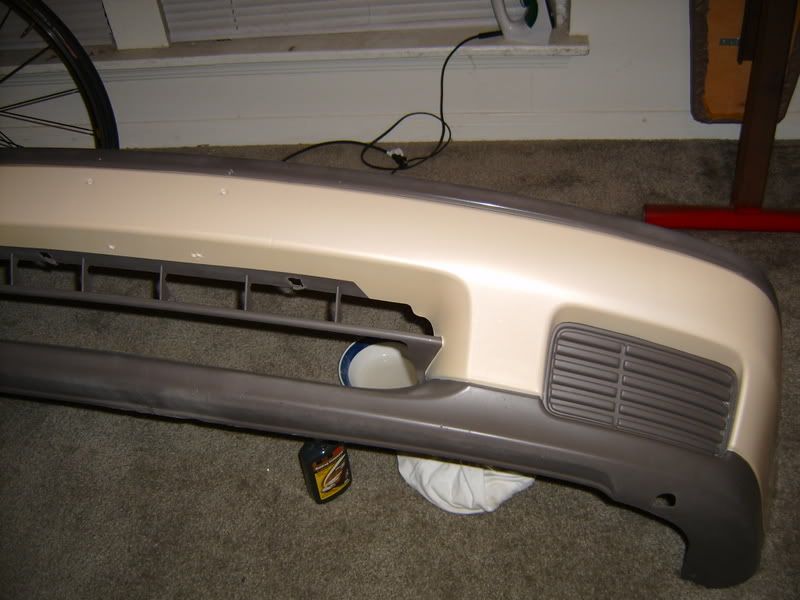 You can barely see where the air dam/lower part was split in two, dead center of the lower piece--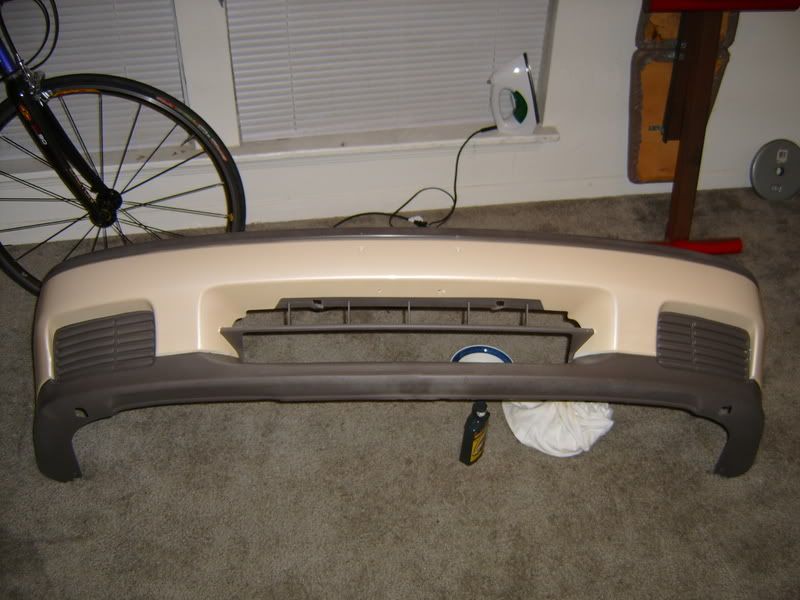 The Gloss after wet-sanding and hand buffing with compound--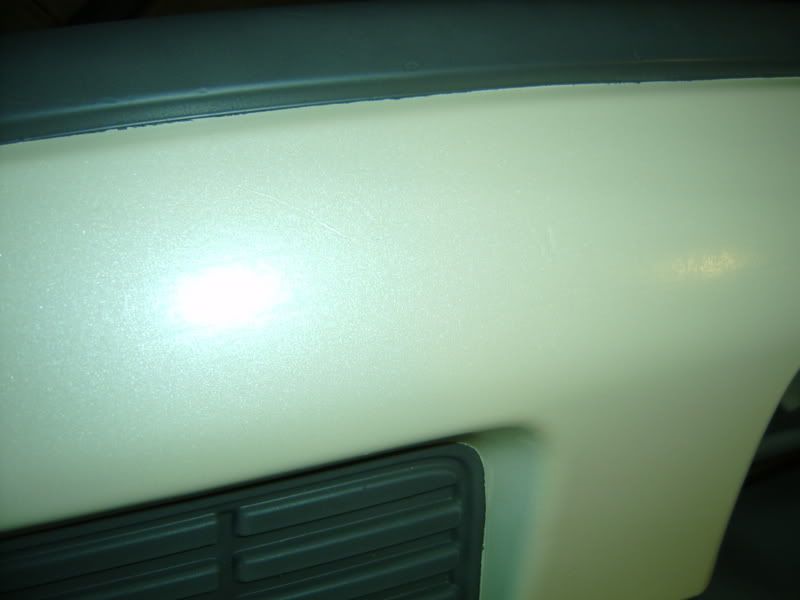 The barely visibly tape marks before wet-sanding --
The tape lines would've broken much cleaner by shooting lighter coats, and pressing the tape down more firmly just before I shot the paint-- I masked it the night before, so some of it released on the edges a little and I just got in a hurry-- :egads: