That's right! Round 5 guys!
Its been 2 years since my last GB, so get it while you can
Everything is pretty much the same as the last GB but I am going to add a few extra things to this GB to make this the best GB ever!
1) All items will now be shipped USPS Priority with delivery confirmation at no extra charge! This means you can get your kit within 2 business days from the day I ship it out
NO NEED for an extra $3.50 for shipping upgrade!
2) Combined shipping - Save $5.00 on each additional kit being shipped to the SAME address
3) Additional discount will be provided to all previous buyers! So if you're in the market to get another kit, or want to get one for your other vehicles, I will discount each kit an additional $3.00. This discount can also be applied with combined shipping to save even more!
*Offer only valid if payment is send with the same PayPal email, so I can confirm previous purchases*
The reason I can pass these awesome deals on to your guys is because I got a very sweet deal working with USPS
Also! Since this GB is extra special, im also going to last 2x longer! This GB will expire by the end of this year! (2 months)
==============================================================
I am making grounding kits for your p10/p11/b13/b14/b15
or any other car you wish
. The kits will be made from 8 gauge wiring and will have gold-plated ring terminals on them. There are also four colors to choose from:Silver, Red, Blue, and Black.
Custom Kits:
If anybody wants these kits in specific lengths, there will no extra charge
Possible benifits of installing a grounding kit:
* Increased Horse Power & Torque
* Awesome Looks
* Faster Shifts on Automatics
* Improved Mileage
* Reduced Emissions
* Stronger & Faster Starts
* Smoother Idle
* More Responsive Acceleration
* Reduced Audio Noise
* Improved Electrical Accessory Performance (brighter lights, windows/sunroofs operate faster, better radio reception, etc.)
*note* benifits are different for everybody. It depends on the condition of your original grounds that the engine has. For me, i noticed 1)brighter headlights (silverstars), 2) more responsive acceleration.

Colors available: Silver, Red, Blue, and Black.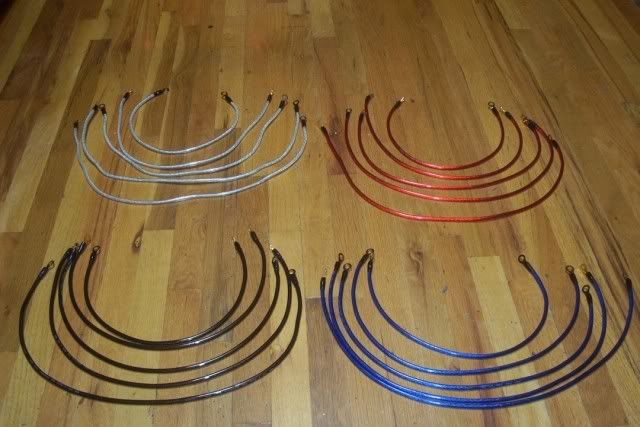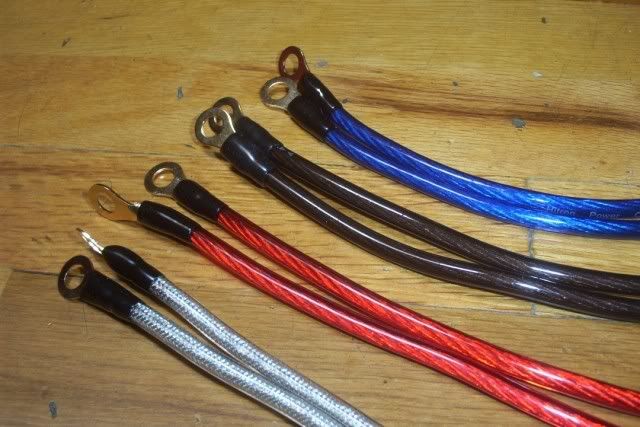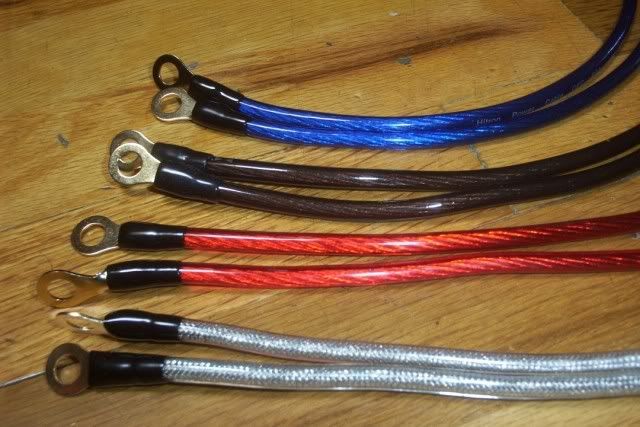 Gold-plated ring terminals
GB-Pricing:
$22.00 shipped for sponors*
$25.00 shipped for non-sponors*
*PM me for a quote for orders shipped outside of the U.S.
Shipment Method:
I will be shipping USPS Priority w/delivery confirmation.
Payment Info:
Paypal:
[email protected]
Check/Money Orders: PM me for my address.
*PLEASE INCLUDE YOUR SCREEN NAME, AND SPECIFY WHAT COLOR KIT YOU WANT ON YOUR PAYMENT TO PREVENT DELAYS IN SHIPPING*
Contact Info:
Contact me at
[email protected]
, PM me, or contact me thru AIM: BatmanFromChina
The GB will end on Dec 31th, 08.
Where to install grounding kit:
Simple grounding outline
This is how i grounded my car
close up pictures of my grounding points
My Feedback/Product review
Grounding Kit Review (Sponor Access Only)