Since there seems to be a new general exhaust question
each week...i decided to put this thread together.
------------------------------------------------------------------
While full after-market exhaust kits may be limited for our cars, there are plenty of
universal options (Both Greddy and Stillen use to make kits for the G20 but have
long ago discontinued production). Depending on how much $$$ your looking to
spend, what kind of setup your looking to achieve, and the look and tone of the
exhaust you want, it gets confusing choosing between brands, styles, piping, and
everything in-between.
------------------------------------------------------------------
Budget Exhaust Options:
Like always, Ebay! By searching through Ebay motors under the title "Universal
Exhaust", your options will be nearly limitless. Find something that suits your style,
but keep in mind that you get what you pay for.
Popular "Decent" Ebay Brands:
OBX and Apexi
These exhausts can be found for around $50 or more,
and offer a decent quality product that will sound good, and
have some longevity. Most of these exhausts will come with
removable/adjustable silencers to control the noise level of
your new rear section.
Other Cheap Exhausts:
Summit or Thrash Turbo
These exhausts can be purchased for around $15, and will add
a slight performance tone in comparison to your stock muffler.
Both of these brands can be found at
www.sumitracing.com
and will also need to be welded up.
Piping:
Your best bet here is to find a local muffler shop, and have
them fabricate some custom Mandrel Bent piping. Prices
can range between where you go, so shop around and be sure
they offer Mandrel Bends (more expensive than crush bends,
but does not rob your engine of HP). Unless you are Turbo, you
have no need to go above 2.5" piping, and remember, the smaller
your piping, the quieter your exhaust will be.​
-----------------------------------------------------------------------
Deep Pocket Exhaust Options:
ALthough high quality exhausts can be found on Ebay, your chances
of finding anything better than an OBX or Apexi is slim. While your
still going to need a universal exhaust, there are 2 very popular
options among this forum.
Popular Quality Exhausts:
Magnaflow and Remus
These exhausts are more expensive than the previous mentioned
ones, and usually start at a little over $100. Both these brands offer
high flow designs and a deep low growl. Your style options (especially
with Magnaflow) vary from dual and single tip, to the type of outlet
wall, angle, and length. Maganflow procducts can be found at
www.sumitracing.com
/ Remus products can be found at
www.remusexhaustshop.com
Piping:
Custom tubing is still a perfectly good choice, and most people will
go this route whether looking to spend a little, or a lot of $$$. Another
option is to purchase a piping kit made for our cars by VRS, but you will
still have to get your universal exhaust welded up.​
----------------------------------------------------------------------------
Headers:
An aftermarket header will give you the most bang for your buck
in terms of power gains. A header replaces your car's stock exhaust manifold, and
also your down pipe. Providing larger piping, a header improves the exhaust flow
from your engine, in tern improving performance. Gains to be expected can range
from 5-15 hp depending on which header you choose to purchase. Fortunately, this
is an aftermarket performance part that is easy to find for the SR20 community. SSAC,
OBX, Hotshot, Pacesetter, and Stillen are among the most popular brands used on
the SR20 engine. However, Hotshot, Pacesetter, and Stillen have discontinued
production of headers for our cars, leaving us with SSAC and OBX. Both of these
headers will cost you around $100, and can generally be found on ebay, with the
SSAC offering 2" & 2.5" piping, and OBX offering 2" piping. For these two headers,
gains to be expected is around 10 hp.
Note: Aftermarket headers are NOT emmision compliant, and may result in your car
failing emmisions. A header will also increase engine noise and vibration, as well as
increase exhaust noise if you are running an aftermarket rear-section.
Resonators:
These are used to achieve a deeper, quieter, more desirable
tone from your after-market exhaust. the longer the resonator, the more
effect it will have on the tone of your exhaust. the most popular resonators
on this forum are with Magnaflow, where you'll choose your length, inlet/outlet
size. These are not completely necessary to achieve a nice tone, but do help.
Removing/Upgrading your Cat:
The G20 was made with a very unrestrictive
Cat, so in most cases upgrading this part of the exhaust system is not necessary.
Unless you are Turbo, or hate mother nature, you have no reason for removing your
Cat and installing a Test Pipe. In-fact, this can be very harmful to an N/A vehicle, so
save yourself the time and money, and obnoxiously loud exhaust and leave it be!
This write-up by no means covers every aspect of exhaust systems.
Do some searching around, PM someone with an after-market exhaust,
or post if necessary to find out more. With that said here is an example
of a "Budget" exhaust job:
-------------------------------------------------------------------------------
These pics and vids are from my car. I have an OBX B9 exhaust, with a 2.5"
inlet, and 4" outlet. My piping is all custom mandrel bent. I spent $60 on the
exhaust, and $120 on the piping. I love my set up. No drone at highway speeds
(under 80 mph), a deep tone, and a nice growl at idle...
Here are two Video/Sound Clips of my exhaust:
http://s83.photobucket.com/albums/j308/ndhernan/?action=view&current=MVI_0427.flv
http://s83.photobucket.com/albums/j308/ndhernan/?action=view&current=MVI_0428.flv
Just some pics...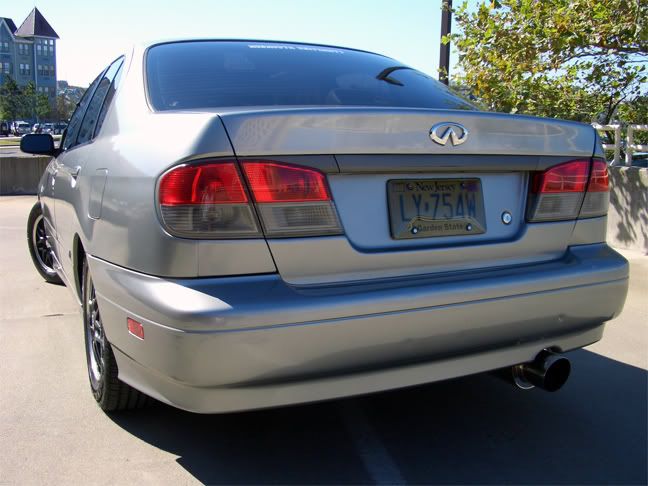 *Note: i know i probably missed some important info, or got some
stuff wrong in this write-up, so feel free to correct me or offer some
additions to the content