*Disclaimer! Not responsible for damages! I am no expert...I only claim to know a little about a lot. This method worked for me. There may be a better method, if you have one, do a write up! Apparently, this mod only is good if you are running a relay to HID lows, like in my case. So do not do this if you are not running a relay to the battery.
Materials needed: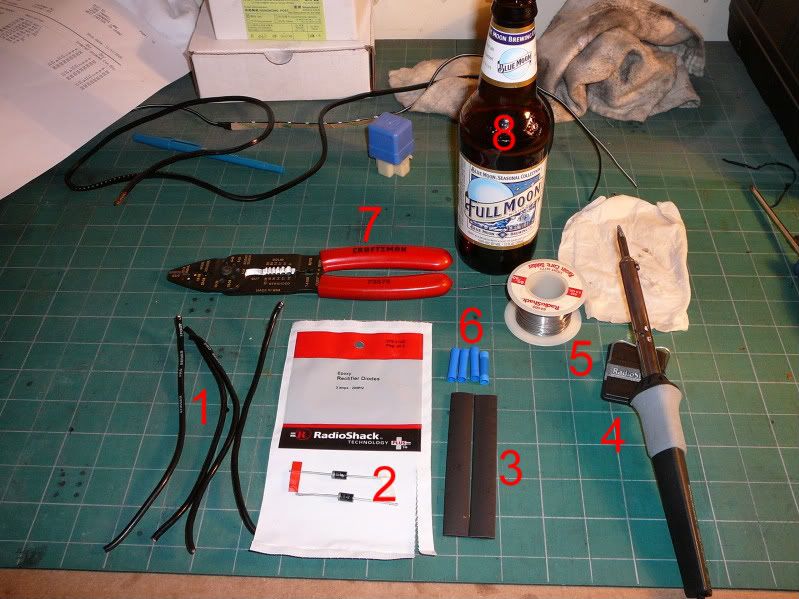 1. Four equal lengths of wire (about 5")
2. 3A diode (two of them)
3. heat shrink tubing (or electrical tape)
4. Soldering Iron and sponge or wet towel
5. Solder
6. Four crimp tubes (or preferred splice method)
7. Crimp tool
8. Clique DIY beer...I went with Full Moon, b/c its seasonal and I was out of Yakima Twilight.
The bare basics:
Basically, you are making a 3A diode jumper wire that runs from your high beam wire to your low beam wire. It's as simple as that, JUST MAKE SURE THE LINE ON THE DIODE IS CLOSER TO YOUR LOW BEAM!
Diodes allow current to flow in ONE direction, so basically when your high beams get power, power to you lows gets shut off via your stock relays...What this does is connects your high beam power with your low beam power wire. Running the jumper without the diode would turn your highs on when your lows are on. The diode restricts the current from flowing high to low, but allows the low to high flow.
Diode info:
Radioshack
PN 276-1143
3 Amps

Jumper wiring:
I basically made a candy cane hook with pliers on each end of the diode wire, twisted a wire onto each end and soldered it in place. Then fit the heat shrink tube over it...In my instance (as you'll see in the third pic), I did NOT heat shrink it, so I can make sure I ran the polarity the proper way (as mentioned above).
Candy canes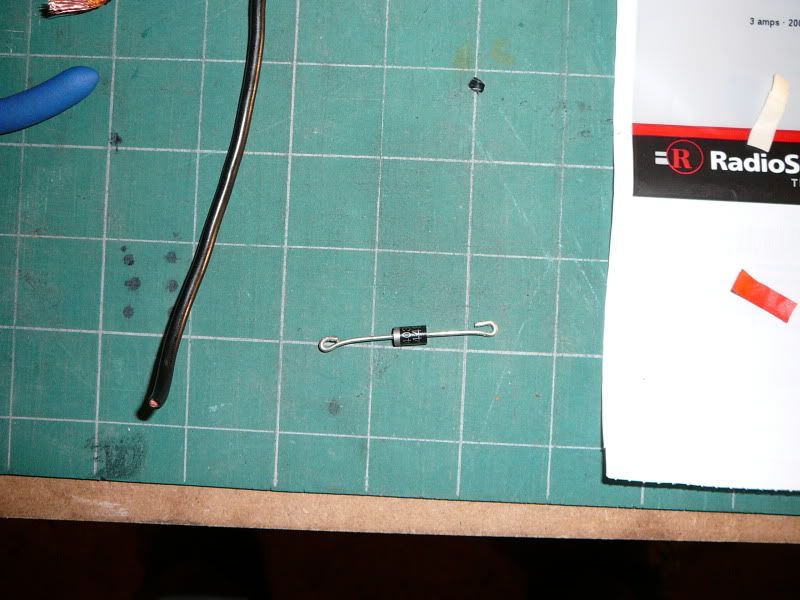 Wire solder then repeat.
Wired up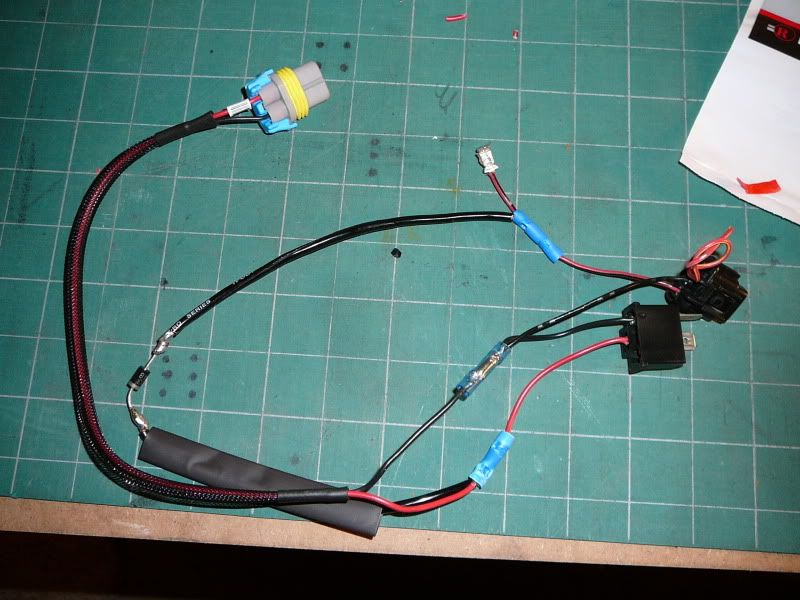 Now the above may confuse you a bit!
Let me explain my wiring in detail, and then I will post a pic to explain also.
I have an aftermarket HID kit, with a relay to take power form my battery. I bought a H4 (stock bulb connection) to H1 conversion harness (pictured)...It did not include a prong for my high beam (because it makes it plug and play for HID, with no high beam). So I ran a wire from the JDM + high beam connection (located on the JDM headlight) and put a 90 degree plug on it, so it'll sit in to my stock H4 high beam slot. I also ran a jumper from my JDM negative connection (again, on the JDM headlight), into my HID negative. So in the pic you'll see an extra wire coming off the high beam.
Any questions please post here and I will answer the best I can. Enjoy!
Many thanks to EricDD for sharing his knowledge!
Keywords:
JDM Duals high low beam mod quad hi/low all four lights both same time stay