This is a copy of a How To in the engine sub-forum. But with this thread it won't be locked so people can ask questions and make posts. At the end of the "copy" I've added some more info that is more specific to us. It was done on my 02 G20 and done a bit differently.
This is actually a HOW TO I grabbed from a sr20 forum (
http://www.sr20forum.com/technical-i...3Cpics>.html
) written by Sentrixx, and the pictures from
www.cardomain.com
. I am in NO WAY taking any credit (good or bad) for this HOW TO. Just merely posting it here so other people don't have to go searching for helpful HOW TOs.
There are numerous benefits to regrounding an MAF, especially if you are working on a P10. The pics are for the B14 MAF grounding process.
B13s are almost identical but the connector is a bit different. Everything below is a direct quote;
******ALSO NOTE: This is done on a 1999 Nissan Sentra SE-L with a stock MAF. 1995-1999 200sx SE-R and Sentra SE and SE-L have the same MAF.*******
1.) Tools:
10 awg wire. Approx 3 feet.From what I know you can use 10-16. I opt for 10 cause it was laying around collection dust.. plus its nice and think for good conduction.
Razor blade
2 male connectors
1 female connector
1 Round connector
Flathead screwdriver
Wire splicer/cutter
(another option is to use a soldering iron and solder the connections on instead of the "vampire" style connections, just so long as there is a good connection)
2.) Location of work space.
3.) Sensor (editorial note, the P11 should have an additional wire not shown in the pic, but the P11 MAF should have 5 wire "slots", it is the middle wire (slot 3) that is the ground wire)
4.) Use screwdriver to push in sensor connector all the way into til it stops.
5.) Pull connector towards the firewall. Should come off with a little tug and wiggle.
6.) From here you want to cut back the electric tape being careful not to cut the wires.
7.) In this pic you can cleanly see the 3 (4 on the P11) wires going to the sensor. The one to be worked on is the CENTER wire. That's center from both sides.
8.) And you want to go ahead and cut that with and splice it.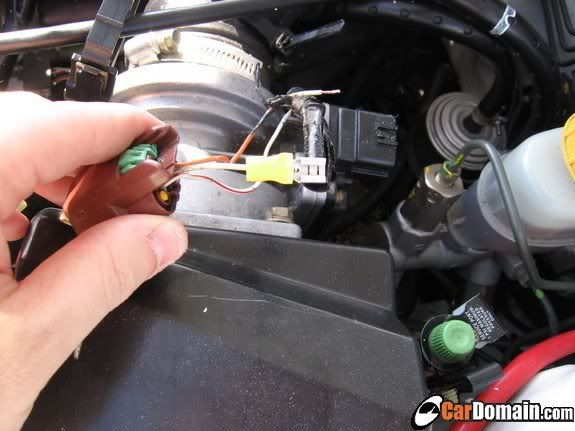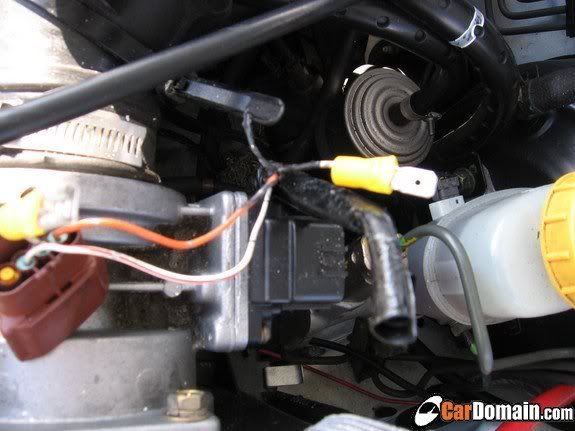 9.) Now you want to use your new ground wire and slpice and attach a male connector to one end.
10.) Now connect it to the new ground (or directly onto the battery)
11.) This is how it should look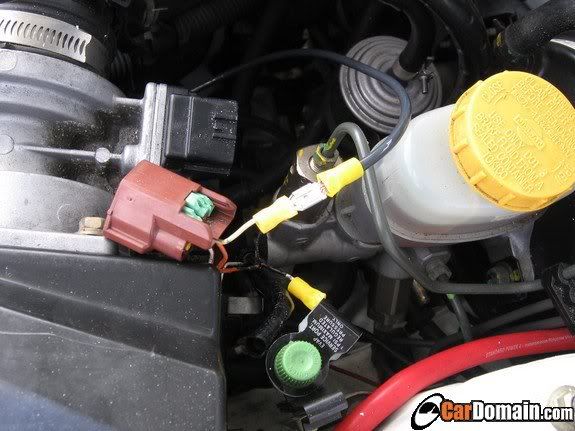 12.) Wrap it back up and plug it back in and you should be good to go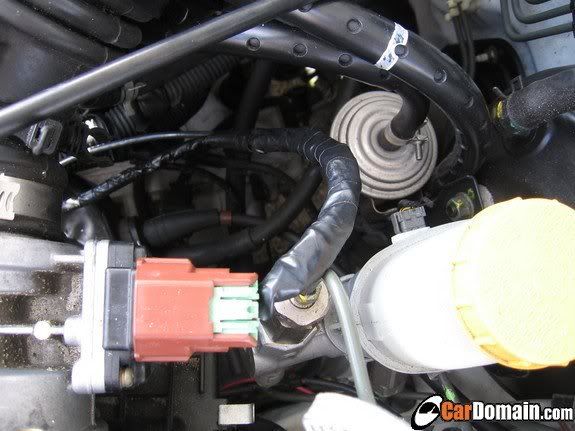 Here is another bit of additional information that might help a more technical aspect of testing and implementing;
"First, you'll need a digital voltmeter and a small flat blade screwdriver.
The MAF sensor is located just past the air intake. You'll need to pull back the rubber cover to expose three wires. On mine, the outer two were orange, the middle one is white. The middle pin is where we need to get a voltage reading from (with the engine idling). Take the positive lead of the voltmeter and make contact with the middle wire. The negative lead should be pressed to one of the ground connectors on the engine block, near the firewall, right behind the fuel injectors. You might have to look hard to see them, just look for a bolt with several black wires running to it. Took me a while to spot it myself, several vacuum hoses in the way...
The voltage read should be less than 9mv (.009v), if it is above this value, the sensor needs to be regrounded. To do this, a wire needs to be run from the middle pin to the ground lug. You'll need to remove the connector from the MAF to get a good angle on it. On either side of the connector is a small opening for a small flat blade screwdriver. There is a wire that runs around the connector to hold it in place, you need to pry this wire outwards, then move the connector back a bit. Do one side, then the other, and it should pop right off. I'd never seen this type of fastener before, once you have it off you'll see what I mean.
You'll want to solder a new wire to the middle pin, make sure you get a good connection. Then, run the other end to the ground lug. If you want to do the job right, you'll want to get a connector from Radio Shack or other electronics store that has a ring that you can crimp the wire to. I don't remember the size of the bolt, so I'm no help there. I just looped my wire around the bolt twice and put it back on. I may go back and fix it up nice some other time.
Once the sensor is regrounded, the voltage should drop significantly. Mine was at around 11mv, after the fix it went down to less than 2mv.
Source: Jim Wright"
Benefits vary from regrounding your MAF, but it usually can't hurt to do it (unless you screw it up). Below is different (yet similar) account of how to do it.
This is the area of your workplace. You can see that I had also printed out parts of the FSM to add as a reference guide.
This is a closer view of what you'll be regrounding.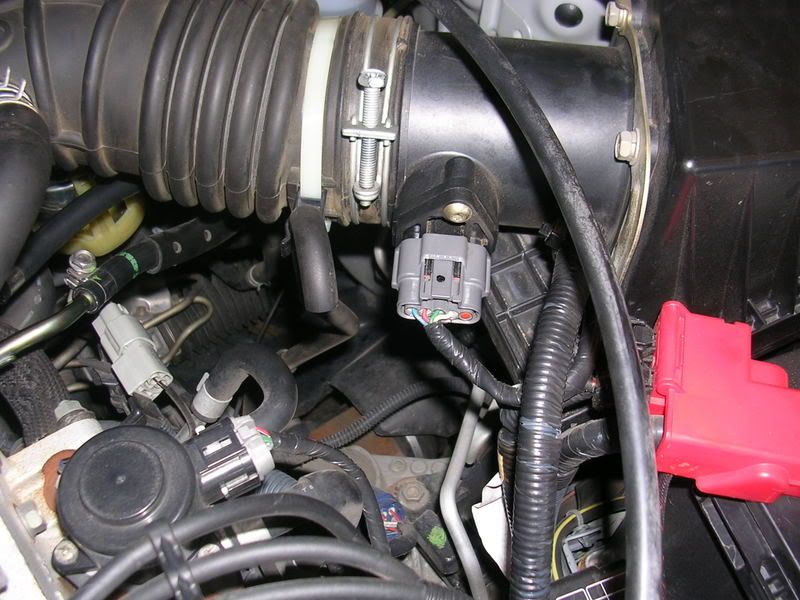 Just to be safe, whenever working on anything electrical, it's a good idea to disconnect the negative terminal on the battery.
Now disconnect the MAF harness from the MAF.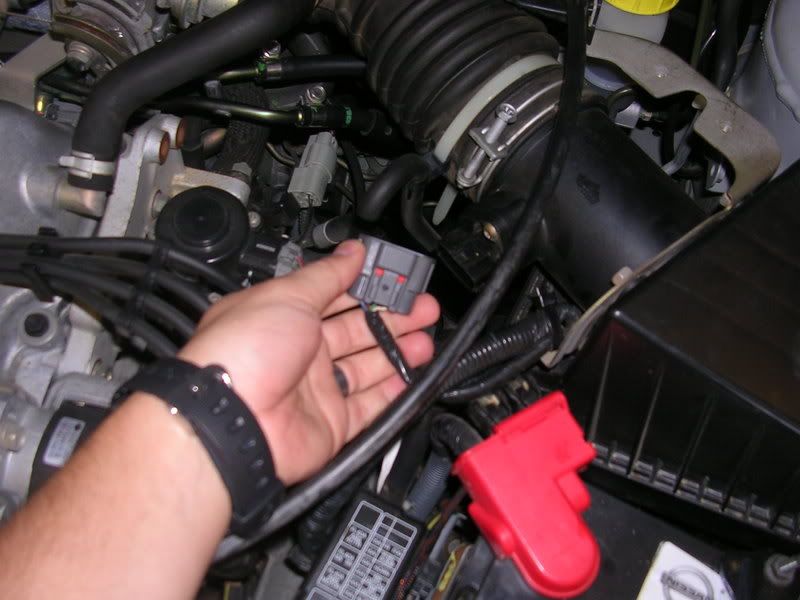 Your wires may be bent and held inside of a plastic tie. Simply pull them out so you have more room to work with.
Start the long process of unraveling the wires that make up the MAF harness. They may be wrapped multiple times, just keep digging.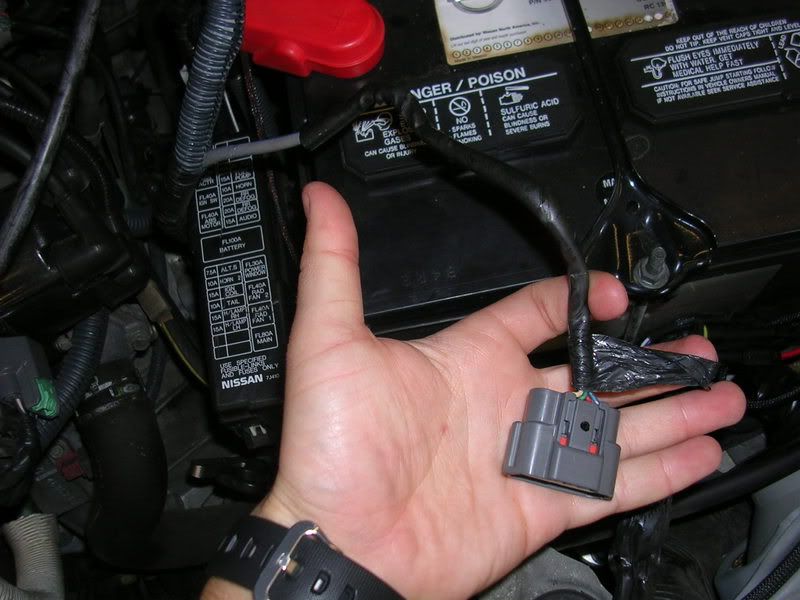 This is what it should look like when it's all unwrapped and ready. You may need to untwist the wires as well.
There are five wire slots on that MAF harness. The fifth one DOES NOT have a wire in it. The ground should be the middle wire. In this case, it was the green wire. Now you need to cut and strip the ground wire. I believe it is an 18 gauge wire. Don't strip it too lose to the harness because you want enough room to be able to solder the new ground wire. You also need to strip the tip of your new ground. With them both stripped and ready to be soldered together flay them just and bit and try to intertwine the wires as to hold each other in place.
Here it how I set up my work station. I placed some cardboard on the battery and worked from there. You need to have just a standard soldering iron (usually less than $20 will get you one) and some solder. In order to have a better soldering job, try to avoid getting solder on the actual tip of the iron. I placed the intertwined wires on top of the hot iron and then used the solder to pole at the intertwined connection until the copper wires heated up enough to melt the solder. Once that connection is securely soldered, go ahead and strip the other tip of your new ground. Then proceed to solder on your new connection. I used a gold-plated "O" connection because I felt that it would do a better job. And I was going to ground my MAF harness to the battery and not the chassis.
Now start to wrap it all back up. I would use electrical and heat-resistant tape to mummy that thing back up.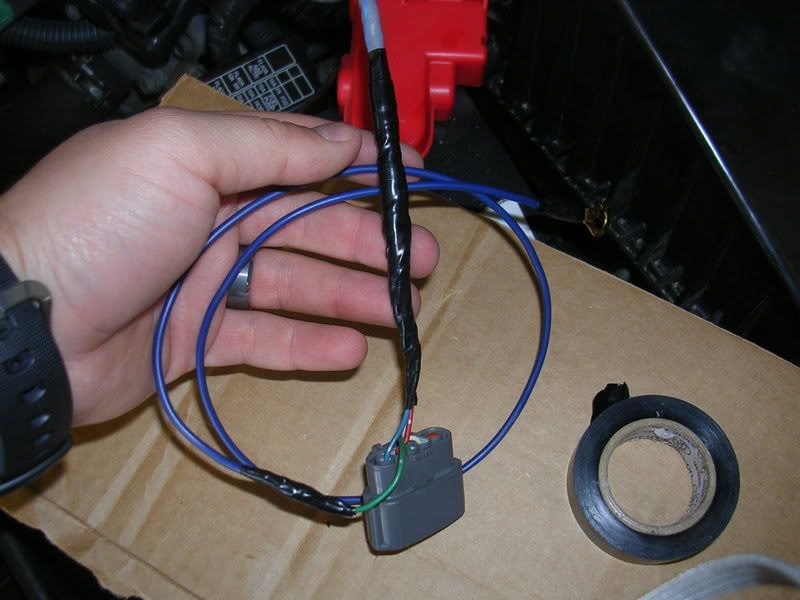 Lastly, go ahead and plug it all back in how you found it. Reconnect your battery and clean up your work station. Double check that everything else was done correctly and turn your car on.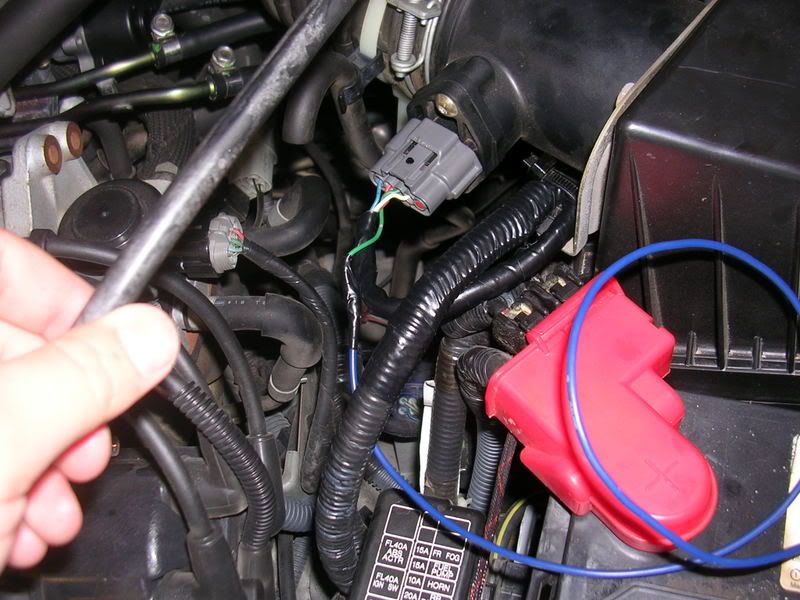 Hoped that helped answer some questions. As far as I know, P10s are more likely to need a regrounded MAF harness than the P11s. The the MAFs on the P11 tend to go out, whereas the ground on the P10 tends to "weaken" over time.