so this is my first how to so please be gentle!!!!!!
with that said here is the legal stuff, i am not responsible for any damage to your mirrors or electrical parts.This was done on my P10 so everything here pertains to a P10, All parts can be used on a P11 the location to hooking up the wires will be different. So if you can find an ACC and a constant +12 volt then it should be easy.
The "box" works by powering a coil for a certain amount of time, as soon as that power is drained the circuit is closed(basic idea). Car off + coil closed + mirrors fold in = coolness
there used to power the antenna on our cars, you will need this with at least 5inches of wire.
you will need two "boxes"(i thought that one would work, but theres not enough power for both to fold) now wire them in sequence(#3blk/r to other #3blk/r, #4blk to #4blk, #5red to #5red only) you should have three wires now.
#1 and #2 from one "box" goes to one mirror and #1 and#2 from the other "box" goes to the other mirror(do to the different colors in wiring you will have to find witch is IN and witch is OUT do one at atime this will help with the other side as long as you used the same color wiring for both sides and in the same polarity)before connecting the mirrors work on this first and make sure they work properly #3 BLACK/RED stripe goes to ACC, #4 BLACK ground, #5 RED +12.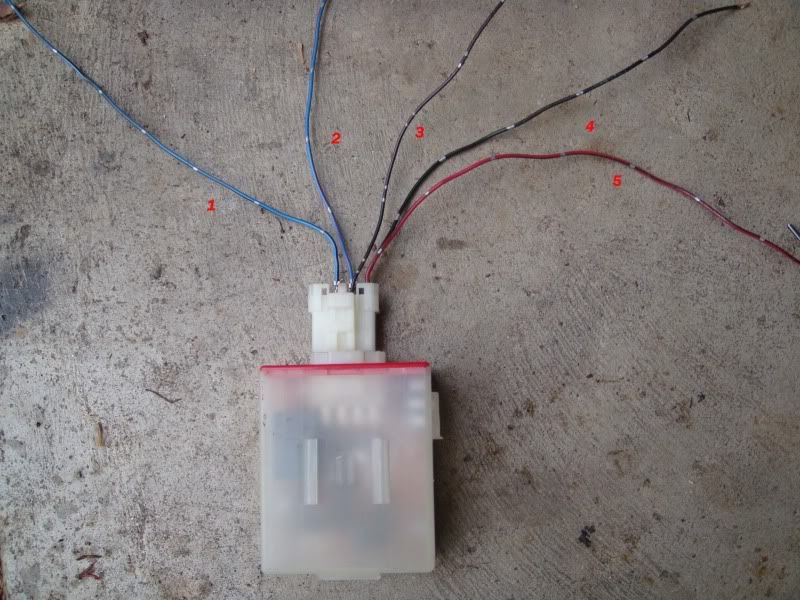 heres the location(p10) for the +12 and the ACC wires i suggest using a light probe and checking them before you connect as years differ.
this is where they will go driver side kick panel, give your self enough slack on the wires cause one goes laying down and the other goes standddiiinnggg......you get the picture.
notice my red(+12) and Orange(ACC ) wire and the location for the ground.
this is easy to do and very cheap, you can find the "boxes" at any pick and pull/part or junk yard. all the ones that i got seem to be OK and worked fine
i know there big but once there behind the panel you forget their there. i hope this hepls and if anyone gots ? PM me
juan