http://www.8thcivic.com/forums/exterior-style-mods/36824-diy-painted-stock-rims-red-lip-fix-your-curb-rash.html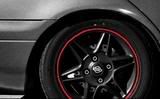 Honest opinions about this? I used paint and did a ghetto job of a photochop using one of trbobrk's pics and its so small so you cant see the imperfections so well.
and i figured the lip these rims kinda have that the red arrow is pointing too would be pretty easy to paint red
what do you guys think?